Shelburne Falls Trolley Museum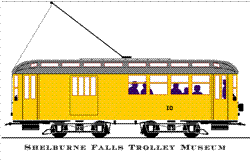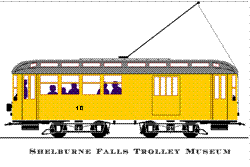 Movie and Radio Gallery
Trolley Car No.10 is back ... On track!
Here are some movies and audio clips relating to the trolley museum.
Clips from ca 1991 of No. 10 being prepared for moving from the Johnson Farm and the parade through Shelburne Falls via truck to its new temporary resting place.
An interview with Marshall Johnson. Marshall was the son of Frank Johnson. Frank saved No. 10 in 1927, and Marshall donated it to us in 1991.
Trolleyfest 1999 was the first time that restored No. 10 ran for the public.
You can also watch our movies on our YouTube channel.
Here is a professionally-produced video of a visit to SFTM by BlackFive Video.
Watch our new TV ad, "The Little Yellow Trolley", developed for us by Goff Media and crew.
Listen to a PSA developed for us by Goff Media. Permission is granted to air this sixty-second PSA on any radio station. MP3 format.
Listen to the sounds of the trolley and the history of how this museum came to be in this great article from National Public Radio.
Download this short movie of No. 10 in action, taken by Scott Whitney.
Piti Theater Company recently released an album that includes a song about No. 10! You can listen to "The Electric Road" and their other songs at their Bandcamp site.
---
Trolley Car No.10 is back ... On track!
Go to Shelburne Falls Trolley Museum Homepage
14 Depot Street Shelburne Falls MA 01370 &nbsp&nbsp&nbsp&nbsp&nbsp&nbsp 413-625-9443 &nbsp&nbsp&nbsp&nbsp&nbsp trolley@sftm.org