Shelburne Falls Trolley Museum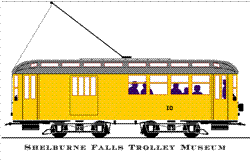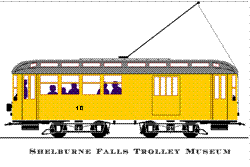 Trolley News, July, 2000
Trolley Car No.10 is back ... On track!
by Peter Johnson
The museum recently added its 115th member, well on its way to the goal of 125 members for the year 2000. It was just a year ago that we nearly reached the 100-member level. Click here for membership information.
On July 16, we thanked the Amherst Railway Society for its support by honoring the members with an Appreciation Day. Their generous support through the years of restoring #10 and the growth of the museum has been a financial lifesaver. Moreover, their recent donation to help move the 1910 Central Vermont caboose was an extra-special surprise. Pictures of the Caboose move.
On August 5, we will unveil a plaque to be hung in the car thanking donors of at least $100 for the electrification and restoration of the car. Details of the Donor Appreciation Day are still being worked out.
Later this summer and fall, we will be scheduling work bees for wood-working volunteers to begin restoring the caboose. The wooden tongue-and-groove exterior needs to be replaced, new window frames are needed as well as other miscellaneous carpentry work. Also, money is needed to mill donated lumber. Call 413-624-0192 if you can give time or money to restore this historic caboose.
We are also seeking additional volunteers to maintain the track and museum, operate the gift shop and be trained as motormen and conductors on #10. The museum and car are staffed 12 hours each weekend, seven hours on holidays and for special tours on weekdays. As the summer winds on, we need to find substitutes for our current volunteers so they can take time off for their own vacations, etc.
There are openings on the board of directors as well the committees that oversee publlic relations, operations, gift shop and fundraising. Please contact us.
In other news, our museum display area has been nearly doubled with new pictures added including photos of the arrival of the caboose last month.
And, our gift shop has been restocked with our official T-shirts!! The shirts are white 100% cotton with the SFTM logo. They are $9.50 for child's medium and large sizes and adult's large and x-large sizes. The xx-large size shirts are $11. Shipping and handling costs are additional.
---
Return to Old Newsletters page
---
Trolley Car No.10 is back ... On track!
Go to Shelburne Falls Trolley Museum Homepage
14 Depot Street Shelburne Falls MA 01370 &nbsp&nbsp&nbsp&nbsp&nbsp&nbsp 413-625-9443 &nbsp&nbsp&nbsp&nbsp&nbsp trolley@sftm.org