Shelburne Falls Trolley Museum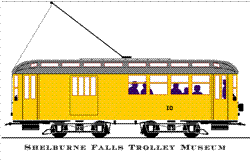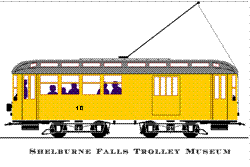 Trolley News Spring 1998
Trolley Car No.10 is back ... On track!
News Alert!!!!!!!!!!
Spring 1998 by Tony Jewell

Coming this way in the not too distant future a new dynamic web page as authored and graphacized by our very own Al Barten erstwhile editor of the paper Transfer.
In the meantime, the following is a synopsis of the lives and times of The Shelburne Falls Trolley Museum.
Steven Gardner, our young Hampshire intern is firmly on board with all fours as they say and is making his presence felt in all departments. A very very badly needed shot of adrenaline for this project.
The restoration of number ten is going at a rapid pace. Inside finish work is now being pursued. Car painting should start by 5/15. Trucks should be under the body by 5/29. If you've got the time and energy we still need some more volunteers for the glory work ahead.
Guilford buys airline, Pan Am that is. Not exactly SF&C news but outsiders always want to know what power we've seen at Guilford lately. So now you know: 727s. Unsure whether pilots will go with UTU or BLE, but, as always, we'll try to keep you informed.
Museum annual dinner is scheduled for June fifth. Festivities start at five PM with tours of the almost completely restored car. Music by the acapella Trolley Stop Four. Dinner by the Eagles includes all the normal things that you expect at a turkey dinner including of course, turkey. Last but not least, the piece de resistance, the pinnacle of post gustatory experience, the inimitable, persistent, ever talking in a state of delirium Tony Jewell will present a slide and video show exposing, er-uh, reviewing the restoration program up to this point. Throw in comradeship, the chance to see a Guilford train, maybe even a plane, includes a bus ride from the Eagles to the rail yard/airport from 5 to 6, all for $15.00. No wonder we're broke!!!
So long from the Falls.
Tony
---
Return to Old Newsletters page
---
Trolley Car No.10 is back ... On track!
Go to Shelburne Falls Trolley Museum Homepage
14 Depot Street Shelburne Falls MA 01370 &nbsp&nbsp&nbsp&nbsp&nbsp&nbsp 413-625-9443 &nbsp&nbsp&nbsp&nbsp&nbsp trolley@sftm.org