Shelburne Falls Trolley Museum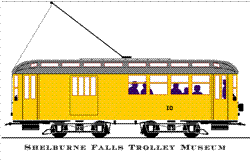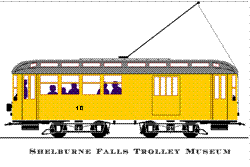 Winter 1998/1999 News
Trolley Car No.10 is back ... On track!
The Official Shelburne Falls Trolley Museum
1998 / 1999 Update
by Tony Jewell
Pilgrims Progress, Y2K-2
Well, yes this is indeed the long awaited annual apology from Tony Jewell explaining once again just why it is that it takes more than a year to publish our trolley fabulous news. And once again my friends, the all too familiar refrain; "too few hands, too many jobs".
But hey, I know you folks are used to my whining by now. If you weren't, you'd be right here writing the news instead of me.
So what is the real news?? You pick a topic in rail/trolley fandom and we've got news.
Taking it from the top. In January 98, our Administrative Assistant Stephen Gardener arrived from Hampshire College. In eight short months, he published two snail mail Newsletters, painted and set up the museum display area, supervised some of our volunteer activities, and participated in a museum marketing study. He's almost gone now, off to Amtrak or CSX, but his memory is alive and I am going to be searching for another intern wickedly soon. But it will be a long, long time before I get somebody with Steve's enthusiasm and energy.
Now the last time i had your attention, I said that the car, Number 10 SF&C 1896 Wason combine trolley car that is, would be on its trucks in May of 98 and operational in August. You may remember that, don't you??? What actually happened is that the car went on its trucks in October. One of the trucks, Taylor MCB's, was completely rebuilt by Bruce Thain to most closely resemble the original Taylor Swing Motion Double Truck. The other non rectified truck was cleaned, leaned, and painted. The trucks have been converted to single motor trucks from their original double truck construction. Both truck motors mounted now are in excellent condition having been extensively gone through and rebuilt as required by Mr. Thain.
Other car restoration work went real slow mainly because of hold ups in State funding, allegedly related to the Big Dig, and the fact that because the project has extended beyond the original completion point by a year and a half we have spent more money on fixed costs than originally forecast which has consumed a chunk of the marginal repair costs. Which is a nice economists way of saying while we're not out of work we're almost out of money.
Before I beg you to help us out, I am going to beg you, you know, I will tell you what is finished and what ain't.
Our noble volunteer Mike Cole, Exterior Coating Quality Control Manager, under the able tutelage of Bob Hayward, painting guru, has started painting the car. The south vestibule interior has been completely refinished and, as you can see in the pix, it's lookin real good.
Larry Werner, another of our noble volunteers, has completed the oak benches in the passenger section.
The carpenters have completed everything but the trim work which includes; the clerestory windows, a zillion moulding pieces, door installation, and a variety of hardware items, and the top flooring.
Mechanically and electrically the car needs to have it's controllers, wire harnesses, resistor packs etc., and brake rigging installed.
And last, but not least, we need to install the trolley boards, trolley ladder, and four cast iron steps.
We have enough money to complete the electro mechanical end, or close to complete, but do not have the perquisite funds to complete the finish work or acquire the steps, etc.
We are hoping that some of those of you out there in the great vast cyber trolley world will see fit to help us at this critical juncture. We are truly almost there and , with a very little push, $20 to 30,000., we will have completed what was thought at one time to be an impossible restoration.
In May, we had our annual membership dinner which highlighted the arrival of the trucks at the yard.
In June, we had our two newest additions arrive via the generosity of our very own Joe Pagano and Max Miller. Number 10 steam engine is a 1934 Baldwin 0-4-0 saddle tanker with CF&I in Palmer lineage. It needs a new boiler tube assembly and firebox repairs and we expect to accomplish this through TEA 21 over the next three years.
Our hope for ten steam is to make it operational for light freight switching in Buckland yard and short passenger runs.
Our other newby was/is a flat car ex Hoot Toot and Whistle tender that we plan on converting into a bench deck passenger car.
In July our newly, as painted by Gardner and Associate, Museum opened to the public for the first time.
In September the first train into the Buckland rail yard since 1987 arrived with our latest greatest addition, the SFTM 01. The 01 is a 1937 Osgood Bradley passenger, aka American Flyer, car formerly owned by the BAR as car number 230. The last thirty years of its life have been spent as a MOW bunk car. We have started an extensive interior and exterior job on it with the intention of opening it as our museum library, office, and meeting training rooms in the spring. The car was purchased for us by two of our newest local supporters. Long term we intend to TEA-21 fund it for restoration to its original BAR lines and or look like a B&M car.
In August of this year, 1998 that is, Sam Bartlett has taken on the job of Electrical Operations Manager. In this new task, Sam is going to be doing the work required to set up the poles and electric lines necessary for the trolley operation. Thanks to the electric company we already have twenty five poles ready to go. Along with this task, comes the training of crews etc for safe car operation, the first since the line shut down in 1926.
This past summer John Greene, our Yard Maintenance Supervisor, worked with our volunteers to surface and gage the Southern yard tracks East of the Depot St. crossover. (That all sounds pretty awesome for our tiny yard, doesn't it?)
In December we had our very first "honor our volunteers" Thanxgiving dinner complete with awards, for Mike Cole and John Greene, and entertainment. It was a great meal served up by the Boy Scouts and we wish that you could have been there. Actually its just as well if you weren't, however, because we ran out of pork early on.
What does the future hold for us???????????
The Mass Central has just donated a Whitcomb 45 tonner and an RPO. We intend on swapping the RPO in exchange with the Upper Hudson River Railroad for moving the loco. The hope is to use the Whitcomb to power the trolley, it has two 600 volt DC generators, as well as to switch freight cars in the yard for BBA Woven Fabrics.
Mike intends to push along with the painting, polishing, and varnishing. Needless to say we need many volunteer hours to help with all important this grant match portion of our project. If you're interested in participating by performing these very fastidious micro managed, but very publicly viewed and reviewed paint duties, please call us.
Sam Bartlett, on the other hand is looking to install the poles and wiring as well as to prepare a set of operating rules. If any of these activities appeal to you or if you are interested in operating a vintage trolley car, contact Sam.
John Greene has a fairly ambitious track program mapped out this year including; surfacing 600 feet of track, installing two hundred ties, installation of a crossover as well as performing the myriad of general yard and grounds maintenance. If being a gandy dancer/knight of the rail appeals to you, let us know.
And, sure we've got a couple of other little projects.
Completing the rehabilitation of the interior and exterior of the BAR coach as well as setting up the library. Redecking the HT&W car for benches. Hosting the museum..... to name just a few.
Many people have said to me over the years, "Gee, Tony, you know we'd really like to help but we have absolutely no skills and hardly any money." And, you know, I always love to reply "If you're still breathing and/or got a nickel, you're just our kind of people."
The SFTM is truly on track with a variety of quality projects. We hope that you'll see the merit of our mission and come join us on our crusade.
Hoping to see you all track side in y2k-1.
Very trolley yours,
Tony

---
Return to Old Newsletters page
---
Trolley Car No.10 is back ... On track!
Go to Shelburne Falls Trolley Museum Homepage
14 Depot Street Shelburne Falls MA 01370 &nbsp&nbsp&nbsp&nbsp&nbsp&nbsp 413-625-9443 &nbsp&nbsp&nbsp&nbsp&nbsp trolley@sftm.org