Shelburne Falls Trolley Museum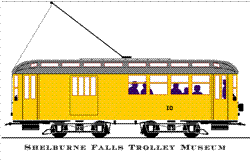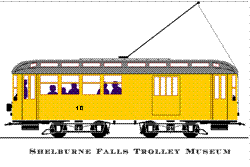 Objectives Newsletter

Trolley Car No.10 is back ... On track!




TROLLEY IDEAS

Tony Jewell
(1991?)


The number one question that I get every day is, "Where's the money coming from?" Lest anybody think that I'm the younger, ugly brother of Donald Trump, I want to assure you that I am not planning to write a big check. There are, however, a variety of bona fide angles that I think we can pursue.
I see the need for a museum organization as a NUMERO UNO priority. This organization should have three primary functions:

A. Oversee the restoration of Number Ten.
B. Increase Community awareness of trolley and rail issues.
C. Seek out financing

As soon as the organization is formed we should proceed to:

Acquire Number Ten from Marshall Johnson with the firm understanding that if we don't acquire sufficient funds to rebuild this trolley, we will seek out the best possible trolley home for her, and arrange to send her along with whatever funds we have raised.
Start up a museum "Trolley Shop" at P.O. Box 272 with the idea of attracting donations and sales of items to tourist. Regardless of Number Ten's rebuild situation, the trolley museum should continue as a community and tourist asset - possibly along the lines of a Children's Museum with a trolley/rail motif.
Actively solicit funds, memorabilia, volunteer man hours, and interest in the Shelbourne Falls/Pioneer Valley area both in terms of civilians and rail/trolley fans.
Market the "trolley fever" through civilian and rail/trolley fan media.
Actively market to big area business, i.e. Coca Cola, Phoenix Insurance, Monsanto, United Savings Bank, Baybanks, etc.
Working on the operational thesis, pursue local electric utilities about involvement in a hydro powered trolley operation. Look to support from a variety of land use, environmental, and other earth energy conservation groups as active partners.
I envision the trolley project as a means of focusing public attention on the ability of hydro powered transportation systems, i.e. trolleys, as a means for communities to obtain auxiliary transportation services with a minimum of environmental and land use problems. The potentials for studies involving science, economics, history and a host of related issues further offers the community potential access to federal and state funding for involvement from the schools. Trolley projects of this nature can have significant positive impact on attracting outside tourist dollars to the local economy. Through encouraging maximum interface with the community, we can enhance the quality of life as well.
---
Return to Old Newsletters page
---
Trolley Car No.10 is back ... On track!
Go to Shelburne Falls Trolley Museum Homepage
14 Depot Street Shelburne Falls MA 01370 &nbsp&nbsp&nbsp&nbsp&nbsp&nbsp 413-625-9443 &nbsp&nbsp&nbsp&nbsp&nbsp trolley@sftm.org