Shelburne Falls Trolley Museum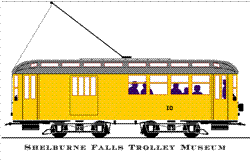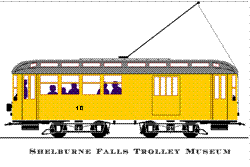 Operating Schedule and Tickets

Trolley Car No.10 is back ... On track!




The museum is closed until May 25, 2024, except for the evening of Moonlight Magic, Nov 24, 4pm - 9pm.

Ride on our beautifully restored 1896 trolley car on Saturdays, Sundays and holidays, from Saturday May 25, 2024 until Sunday October 27, 2024.
Hours are 11:00 am to 5:00 pm.

These are our official hours. Please use the information on this page if you find conflicting information elsewhere on the web (Yelp, etc.). Also, please let us know if you find conflicting information and where you found it.

During open hours our Visitors Center and TrolleyStop gift shop are open and Trolley car rides and pump car rides are available 'on demand', unless thunderstorms are nearby. Advance reservations are not needed.


See our Events Page for special activities.

Or just drop by, someone might be there to show you around or sell you tickets for a ride.

Admission to the TrolleyShop and the Visitors Center and grounds is free. All-Day passes for a 15-minute ride on the trolley car are $5.00 for adults, 6-17 year-olds are $3, children 5 and under are free. Your All-Day pass is good for rides for the remainder of the day. Trolley rides include an interpretive talk on the history of the trolley, the Bridge of Flowers and the Shelburne Falls and Colrain Street Railway. Pumpcar rides are included in your pass. Members always ride free!

The Visitors Center, Car Barn and TrolleyStop museum store can be open at other times and other days by reservation. We will provide a complete tour, including trolley rides, for your school, group or party, outside of the scheduled hours and/or days for a fee. See our Group Reservation page for more information. If your group comes during regular hours the standard pass prices apply. Please let us know ahead of time if your group will be larger than 16 people during regular hours.

Please contact us if you would like any further information, or to be informed of any changes in our schedule.
---
Return to (none)
---
Trolley Car No.10 is back ... On track!
Go to Shelburne Falls Trolley Museum Homepage
14 Depot Street Shelburne Falls MA 01370 &nbsp&nbsp&nbsp&nbsp&nbsp&nbsp 413-625-9443 &nbsp&nbsp&nbsp&nbsp&nbsp trolley@sftm.org