Shelburne Falls Trolley Museum

Pump Car Rides!




Trolleyfest
Saturday September 30, 2023



Trolley Rides!

Trolleyfest is our annual celebration of the restoration of Trolley No. 10.
The public is invited from 11am to 5pm at our regular $5.00 All-Day Pass rate, members as always get to ride free!
Here is a link to our Trolleyfest Poster, we'd love to have you print these out and post them in appropriate public places.
Besides the usual trolley car rides and pump car rides, activities include:
Speeder (aka Motorcar, aka Putt-Putt) Rides
Wooden and electric trains to play with
Send a message via telegraph
Special Trolleyfest Activities 11am-3pm:

Food from Mo's Fudge Factor for sale
Music by "Whistle Stop"
Maple products from Davenport Maple Farm for sale
Preserves from BarbEric Farm for sale
Velocipede demonstrations
Morse Code demonstrations
Blacksmithing demonstrations
Railroad paraphernalia Tag Sale
Expanded offering of Lionel, K- Line and other toy trains, track, etc for sale
Railroad movies shown throughout the day
Trolley Era re-enactors riding the trolley
Quilt Sale

Hands-on demonstrations of Trolley Era activities that relate to industries and farms served by the trolley line 11am-3pm:

Cider pressing and sampling
Hands-on Butter making and sampling
Games from 1900
Hands-on Weaving on adult and child friendly looms
Milk a 'Cow'
Vinegar uses- refreshing drink, pickles & copper polishing
Check back for other activities.
---
Here are some activities and views from Trolleyfests of the past. At Trolleyfest we have activities and demonstrations that relate to the history of the Shelburne Falls and Colrain Street Railway from 1896 to 1926. Note that not all of these activities are available every year.

Cider Pressing (Photo: J Bartlett)
A small-scale version of the W.W. Cary Cider Mill, which produced up to 500,000 gallons of cider vinegar in Foundry Village. Vinegar, made from local apples, was an important preservative for pickling prior to refrigeration.



Machine Tools (Photo: J. Bartlett)
Our friends from the Museum of our Industrial Heritage set up a screw making exhibit. Machine tools and industrialization are intimately tied in to the history of Shelburne Falls and the trolley lines.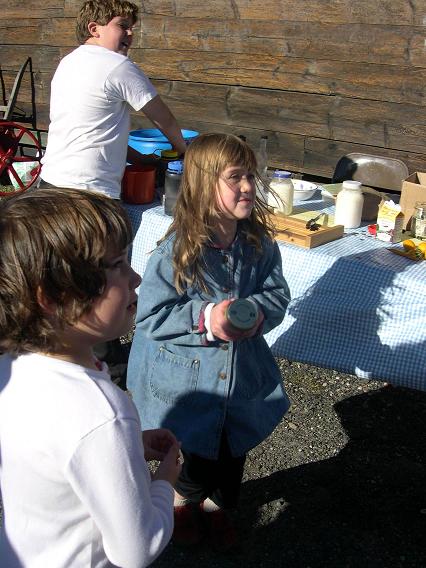 Butter Making (Photo J. Bartlett)
Dairy production was an important part of life in New England. A H.P. Hood and Sons creamery was located in the Buckland Freight Yard, which processed milk from local farms for shipment to distant cities.



This CP speeder visited in 2004. Also called motorcars, these were used for track inspection and maintenance, replacing pump cars. (Photo D. Goff)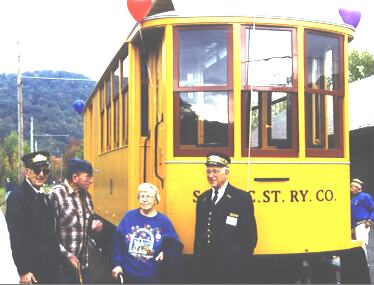 And, of course, we always have trolley rides. Here is Kinsley Goodrich, Marshall and Grace Johnson and Win Peck on the first day of operations. Goodrich and Peck were the crew for the first run in 73 years. The Johnsons owned the car from 1927 to 1991. (Photo: W. Brandt)



Sometimes you can ride the trolley with people from 100 years ago. (Photo by S. Bartlett)



Here a child is "milking a cow". The "cow" was provided by the Heath Fair. (Photo by S. Bartlett)

Image Policy: Use of these images is permitted as long as the words "Shelburne Falls Trolley Museum" are in the caption, and the photo is properly credited.

---
Return to (none)
---
Trolley Car No.10 is back ... On track!
Go to Shelburne Falls Trolley Museum Homepage
14 Depot Street Shelburne Falls MA 01370 &nbsp&nbsp&nbsp&nbsp&nbsp&nbsp 413-625-9443 &nbsp&nbsp&nbsp&nbsp&nbsp trolley@sftm.org