Shelburne Falls Trolley Museum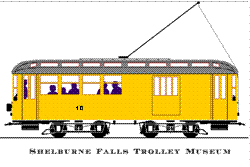 Photos of moving the caboose
Trolley Car No.10 is back ... On track!
Click on any image to see a larger version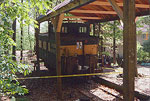 In use as a pool side cabanna, since 1978, at the home of Dr. Frederick Hess in Shutesbury, MA. The shed kept rain off the leaky roof.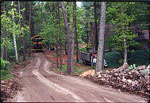 We had to build a road to get the lowboy and crane in to the caboose.


A lowboy was pushed under the caboose in the tight confines of the trees.


The caboose hits the open road.


Holding up traffic in Deerfield, MA.


Here she comes through the railroad yard.


Lifting the caboose off the lowboy.


And down on to the trucks.


Fearless leader, Sam Bartlett, holds on to the new caboose to keep it from tipping over.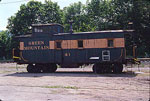 The caboose awaits resoration in the Shelburne Falls, MA railroad yard. Donations of time and money are always welcome.
Please contact the Shelburne Falls Trolley Museum.
---
---

Trolley Car No.10 is back ... On track!
Go to Shelburne Falls Trolley Museum Homepage
14 Depot Street Shelburne Falls MA 01370 &nbsp&nbsp&nbsp&nbsp&nbsp&nbsp 413-625-9443 &nbsp&nbsp&nbsp&nbsp&nbsp trolley@sftm.org