Shelburne Falls Trolley Museum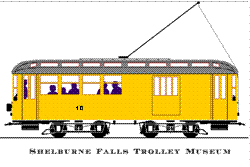 Raffle

Trolley Car No.10 is back ... On track!




The Raffle is over for this year, the winners have been notified. Thank you for your support, check back again next year!

Trolleyfest 2017 RAFFLE!

Please contribute to Shelburne Falls Trolley Museum's ongoing improvements by participating in our Raffle. All prizes are donated, so all proceeds help SFTM look better, be safer, be even more fun and be even more educational.

PRIZES

A) 90 Main Eatery, Charlemont - $25 Gift Certificate
B) West End Pub, Shelburne Falls - $25 Gift Certificate
C) Cliff Schexnayder's book "Builders of the Hoosac Tunnel" a $30 value
D) Essex Steamtrain and Riverboat (CT) - 1 voucher for 4 people, value $116
E) Boothbay Railway Village (ME) - $12 pass
F) Seashore Trolley Museum (ME) $50 family pass
G) Shore Line Trolley Museum (CT) $40 pass
H) McCuskers Market/Greenfields Market - $50 gift certificate
J) Hoosac Valley Train Ride Adams MA - 2 Round Trip passes
K) Conway Scenic Railroad in Conway, NH for 2 adults and 2 children for coach fare good until Dec. 31 of this year (blackout dates (9/23 to 10/9) with a value of $99.


Check back here for more prizes as they are added.

You can purchase tickets at the Museum when we are open, or just print out these tickets, put your name and address and phone number and/or email on them and indicate the letter (see the list above) of the prize you wish to be entered for. You may print out as many tickets as you wish, buying more increases your chances of winning. Get your friends to buy some too!

Mail them to:
SFTM
Raffle
PO Box 272
Shelburne Falls MA 01370
with a check for $5 for each ticket, three tickets for $10, or $20 for eight tickets.

Drawing will be at Trolleyfest on July 22, you don't have to be present to win (but we'd love to see you!).
---

Trolley Car No.10 is back ... On track!
Go to Shelburne Falls Trolley Museum Homepage
14 Depot Street Shelburne Falls MA 01370 &nbsp&nbsp&nbsp&nbsp&nbsp&nbsp 413-625-9443 &nbsp&nbsp&nbsp&nbsp&nbsp trolley@sftm.org