Shelburne Falls Trolley Museum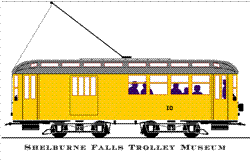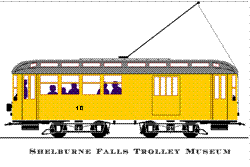 Trolley News, September, 2000
Trolley Car No.10 is back ... On track!
by Sam Bartlett
TROLLEYFEST II - We are having our first 'birthday party' on Sunday October 8, noon to 7:00pm. Besides the usual trolley rides, we will have music, food vendors, caboose tours, movies, slide show, motor car rides and a volunteer appreciation supper donated by Subway. Displays by businesses representative of the businesses served by the SF&C St Ry will also be on hand.
OPERATIONS - The Shelburne Falls Trolley Museum has completed it's first summer of operation. The late spring was pretty quiet, on one day we only sold 14 tickets. But by the middle of the summer, with articles in the local papers, not-so-local papers, and a short spot on the local T.V., we had several weekends of nearly 200 tickets. We have gotten a lot of compliments from our visitors, on the car, on the operation and on the museum collection. Our volunteer motormen and conductors are running safe, courteous, educational trips. Peter, Dave and Debby, our intrepid gift shop crew, have sold quite a lot of merchandise and kept the tickets flowing smoothly. Mike Cole has finished the floors in Car 10, we finally got rid of that carpet! Trackwork, under John Greene, moves ahead slowly (not enough strong backs available on weekdays) and grounds keeping keeps just ahead of the grass. The loading platform was beefed up and lengthened, and the Salmon Falls end of the line has been cleaned up and brushed out to improve the view to/from the village. Car 10 has not missed a single trip! We use about 15 volunteer days per week to keep our operation going. Please contact us if you would like to help.
GIFT SHOP - Our gift shop has our official T-shirts!! The shirts are white 100% cotton with the SFTM logo. They are $9.50 for child's medium and large sizes and adult's large and x-large sizes. The xx-large size shirts are $11. Shipping and handling costs are additional.
CABOOSE - The steps are being rebuilt, about $1200 of material and labor donated by member Richard Alix. The windows are being rebuilt by Larry Werner, who also built the seats in Car 10. Part of the roof has been stripped and looks to be sound, a rubber roof is being contemplated. Unless someone writes us a big check, we are not planning to restore the caboose as completely as the trolley was restored. Pictures of the Caboose move.
MEMBERSHIP - We are up to 126 members, and have sold our first car card advertisement to West County Winery, a local maker of fine fruit wines. Click here for membership information. One of our founding members, Brian Carr, passed away. Brian was one of the few stalwarts in the 'dark years', after incorporation, but before the ISTEA grant.
The leaves are turning, and as you can see in some of last year's pictures, the fall colors and the trolley make for some wonderful photographic opportunities. If you haven't visited us yet, now is the time!
---
Return to Old Newsletters page
---
Trolley Car No.10 is back ... On track!
Go to Shelburne Falls Trolley Museum Homepage
14 Depot Street Shelburne Falls MA 01370 &nbsp&nbsp&nbsp&nbsp&nbsp&nbsp 413-625-9443 &nbsp&nbsp&nbsp&nbsp&nbsp trolley@sftm.org