Shelburne Falls Trolley Museum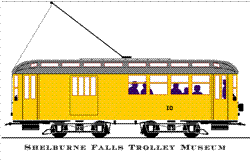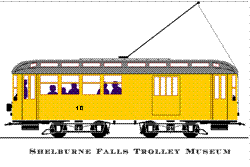 Pandemic Notice
Trolley Car No.10 is back ... On track!
The Shelburne Falls Trolley Museum has resumed our regular schedule for 2022.
Currently there are no requirements for masking or other precautions, but visitors are welcome to wear masks if they wish.
PLEASE DO NOT COME if you are experiencing symptoms that could be contagious (and get well soon!).
While we were closed we did some small group and solo work projects, to keep maintenance up and to improve the museum experience.
Being closed in 2020 and in the early 2021 saved us thousands of dollars in insurance and marketing, allowing us to conserve our funds so that we can continue our preservation and education mission in the future. We did miss our visitors and the sounds of the trolley humming along under the wire.
You can find all the Massachusetts COVID guidelines here.
If you are avoiding in-person visits, you can watch our videos on our YouTube channel.

MBTA 3321 has her mask on, and you can wear one too, if you choose.

---
Return to (none)
---
Trolley Car No.10 is back ... On track!
Go to Shelburne Falls Trolley Museum Homepage
14 Depot Street Shelburne Falls MA 01370 &nbsp&nbsp&nbsp&nbsp&nbsp&nbsp 413-625-9443 &nbsp&nbsp&nbsp&nbsp&nbsp trolley@sftm.org