Shelburne Falls Trolley Museum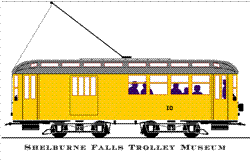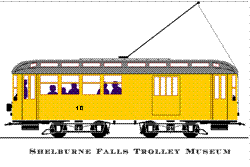 Pandemic Closure Notice
Trolley Car No.10 is back ... On track!
We are closed for the 2020 season.
Please make a Donation to our General Fund to help us through this temporary closure.
The Shelburne Falls Trolley Museum will not be open for the 2020 season, due to the pandemic. At this point, we fully expect to reopen as usual in 2021. There are no trolley rides or pump car rides, and all buildings and equipment are closed to the public. We are sorry for the inconvenience. Please see the Press Release below for more information, and check SFTM.org often for updates.
Although Museums will be allowed to open in Massachusetts at some point, there will still be many restrictions to keep our visitors and our volunteers healthy. Things like pump car rides and hands-on toy train sets do not lend themselves to social distancing and disinfecting after each use. And our tiny trolley car and caboose are hard to navigate if you are staying away from everyone else on board. We feel that it will just be simpler to stay closed and use the insurance savings to balance our budget for next year.
Meanwhile, we are doing some small group and solo work projects, to keep maintenance up and to improve the museum experience for when (not if) we do reopen.
This difficult decision saves us thousands of dollars in insurance and marketing, allowing us to conserve our funds so that we can continue our preservation and education mission in the future. We will miss our visitors and the sounds of the trolley humming along under the wire.
In the meantime, you can watch our movies on our YouTube channel.

MBTA 3321 has her mask on, even though there are no visitors at the museum until after restrictions are lifted.
Please make a Donation to our General Fund to help us through this temporary closure.
FOR IMMEDIATE RELEASE
May 15, 2020
Contact Information
SHELBURNE FALLS TROLLEY MUSEUM
PO Box 272
14 Depot St
Shelburne Falls, Ma 01370
Louis J Musante, Publicity
413-625-6454
louismusante@gmail.com

The Coronavirus pandemic has affected many local businesses and organizations through government mandated restrictions. Restaurants, retailers, public venues, and outdoor public spaces have had restrictions placed on them to open or operate.
Normally at this time of the year, volunteers of the Shelburne Falls Trolley Museum are at work daily training and doing maintenance to the grounds and building of the museum and getting Trolley No 10 ready for Opening Day which always falls on Memorial Day weekend.
This year will be different, according to a recent announcement by General Manager Robert "Sam" Bartlett, who released the decision of a recent meeting by tele-conference of the Board of Directors who have been watching the local situation over the past couple of months, and have now decided to postpone the 2020 opening at this time.
Although no one associated with the museum has been infected by the virus, it was thought that delaying the season opening would be a better way to protect our volunteers, and our visitors , many of whom visit every year and some even several times during the season. The board also considered the fact that our operating area has been very successful in following recommendations of the health boards and are maintaining a very low number of virus cases, and they felt it would be better at this time for us to remain closed and help protect the local community. As soon as restrictions ease and it becomes apparent that the virus transmission has mitigated, a new opening date will be announced and posted on our website.
The delayed opening is being shared by many other local Shelburne Falls tourist attractions, including the Bridge Of Flowers.
Museum directors have appointed a four member committee to watch over the situation, and to act on the Governor's future releases and those of the local Board of Health, which will guide their future recommendations as to an opening time, if possible, sometime later this year. They have the authority to evaluate all recommended procedures to keep everyone protected if an opening can safely be done this year.
This is the first time No 10 has not operated since it was restored and began its new life in the museum in 1999, and the museum crew will do everything possible to hopefully operate this season, but only if it can be done safely for all concerned. Ironically, the feature of the museum, Car No 10, experienced another major virus pandemic back in 1918. A review of historical archives reveals schools and venues were shut down during that period also, and trolley lines across America restricted entry to any passenger who was not wearing a mask.
Any further announcements will be on this page.
---
Return to (none)
---

Trolley Car No.10 is back ... On track!
Go to Shelburne Falls Trolley Museum Homepage
14 Depot Street Shelburne Falls MA 01370 &nbsp&nbsp&nbsp&nbsp&nbsp&nbsp 413-625-9443 &nbsp&nbsp&nbsp&nbsp&nbsp trolley@sftm.org